Precision Screen Printing Machine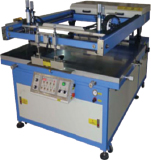 Model No.: SM-31
Main Technical Variables:
1. Microprocessor controls each function with high automation and easy operation
2. 5 digit auto counter built in.
3. It has function of triangle which improves printing efficiency
4. It has function of flat printing, vacuum table adopted.
5. Auto ink scraping and flooding and frame elevating make operation easy
and ensure stable printing quality.
6. Printing stroke and speed are adjustable to meet different printing requirements
7. Auto balanced squeegee ensures equalized printing pressure
8. Flood blade holder cab be lifted by pneumatic so that screen rplacing is easy and convenient.