Two Colors Fabric Screen Printing Machine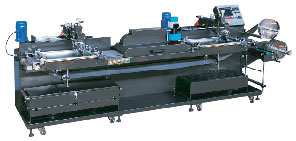 Characteristics
1. The machine through machine, electrical and pneumatic integration automatic control high precision.
2. The Complete machine employs the Japanese Panasonic Programmable controller (PLC) to
Make the circuit of the controller simple, reliable and stable.
3. The printing unit with pneumatic controller is equipped with adjustable vaccum air – intake system and blowe to upgrade the printing precision.
4. The fixed position of the printing stroke and the mesh plate is adjustable, making it free to print the materials of different specifications and size
5. The drying system employs the hot air circulation.